Palmata
Regular price
$69.00 USD
+ free shipping
Regular price
Sale price
$69.00 USD
Unit price
per
Sale
Sold out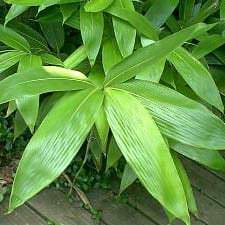 Can I grow this bamboo?
Once you enter your zip code below, we can provide recommendations just for you!
Characteristics of Sasa Palmata 'Nebulosa'
Sasa Palmate 'Nebulosa' is a tropical looking bamboo with long broad leaves. It is low growing and shade tolerant. This bamboo makes a low screen or barrier. A vigorous grower that is used for flower arrangements and erosion control.
Sasa Palmata 'Nebulosa' is a beautiful bamboo with more of a tropical look than your traditional larger bamboos. The thick, leathery leaves are up to 15 inches long by 2 1/2 inches wide. Some of our customers are growing this species for use in live flower arrangements. It is native to Japan.
Palmata is hardy as far north as Boston and grows taller in cool climates. Here in the South, ours is about eight feet tall which makes a great low screen or barrier. It does well in pots and looks best when grown in the shade. Leaves wither around the margins and at the tips in very cold weather but will be replaced by fresh greenery in the Spring.
Palmata is ideal for stabilizing river banks and used in reclamation schemes. In areas where extensive logging is taking place, this and other bamboos can be useful material in preventing the loss of valuable topsoil.